June 16, 2014 8:45 AM
Vincent Ilustre
newwave@tulane.edu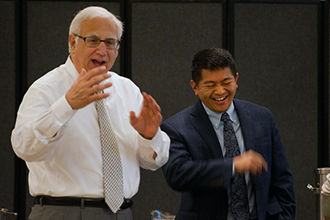 Editor's Note: In this series of articles, colleagues and friends of Tulane University President Scott Cowen write a remembrance of their work with him. Vincent Ilustre is a Tulane graduate and was the founding executive director of the Tulane Center for Public Service. He recently became the senior director for regional campaigns in the Office of External Relations and Development.
I still recall my first meeting with Scott — he was just starting his tenure as president of the university and was making his rounds, getting to know the people and programs that he inherited.
I was making a presentation about the Office of Service Learning, alongside my mentor and supervisor, psychology professor Barbara Moely. I remember him listening intently to what we had to say. Afterward, he asked one question that has had an immense impact not only the university but also the city of New Orleans: "Why aren't we requiring this?"
After Hurricane Katrina, the axiom that "As New Orleans goes, so does Tulane," and vice versa, became even more palpable. A few weeks after the storm, I received a call from Ana Lopez, associate provost, who was with Scott and the administrative team at the Houston command post, where they had evacuated.
She shared with me this news: Public service will now be an academic requirement for all of our undergraduates. And so, the Center for Public Service was born, and the university's legacy of collaborating with the local community was thrust front and center.
In nine years, the center has become both a national and international model for institutions of higher education. And all of this was set in motion, as I see it, by the simple question that Scott asked 16 years before.
Scott is a visionary leader; he is ready to make the tough decisions and follow through. He is full of passion and truly cares about people. He has been a mentor, father-figure and friend. He bleeds green and epitomizes the Tulane motto, "Non sibi, sed suis" — not for one's self, but for one's own.