May 5, 2014 8:45 AM
Norman Francis
newwave@tulane.edu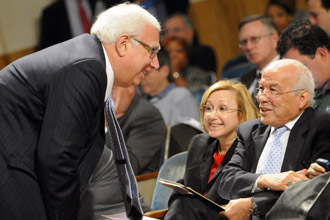 Editor's Note: In this series of articles, colleagues and friends of Tulane University President Scott Cowen write a remembrance of their work with him. Norman Francis, president of Xavier University in New Orleans for 46 years, reflects on his work and friendship with his fellow university president.
When Scott came, he made an appointment with me, and as I walked in, he said, "Wow, I heard how long you've been at Xavier, and I thought they would wheel you in with a wheelchair."
That is characteristic of Scott, who has a great ability to greet people, to make people comfortable, to have close relationships with students, faculty, administrators and the community. It didn't take him long to become a Who Dat man, certainly a Green Wave.
We were, and still are, very close. That closeness came from understanding higher education administration. And there's nothing "pontifical," governance-wise, about either of us at our two universities.
People use the word popular, but that's not it — it's someone who is personable and believes everyone is somebody. I admire him for that. It was particularly important during Hurricane Katrina. Scott had been here just a few years, but his style allowed him to get to know people and the city. That's his style, gregarious, being very sure, once he decided what he had to do.
Scott handled Katrina not with just pomp and circumstance, because when you're stranded with no paddles, you build paddles and make your way the best you can.
No disrespect for ones before him, but he really was the right man, in the right place, at the right time. History will confirm what Scott Cowen meant to this city. The reconstruction was not just our institutions but the public schools, with volunteers from students and faculty. It was an amazing job.
Scott drew people together to work with him, alongside of him. He was able to point to everybody to have a part in recovery. He did it, not for the accolades, but because it was important to be done.
We shared this: After Katrina, we weren't looking to come back to where we were, we were looking to be where we should have been. New Orleans has been much better off for his being here in his position at Tulane.