TULANE TALK
May 2, 2014
Good Morning:
http at the Quad are always a good time, but last week's gathering was one I will never forget. Morgan Wittenberg, undergraduate student body president, and Sam Gould, president of the Community Action Council of Tulane University Students, presented me with a beautiful quilt that was created using T-shirts from a variety of student, faculty and staff-led community service efforts.
The initiatives and organizations represented on the quilt were major contributors to the Cowen Service Challenge, your wonderful parting gift to me as I prepare to step down as president. In response to the Service Challenge, which ends today, the Tulane community has amassed an incredible 780,347 hours of community service over a nine-month period. This surpasses the challenge's original goal by more than 30,347 hours!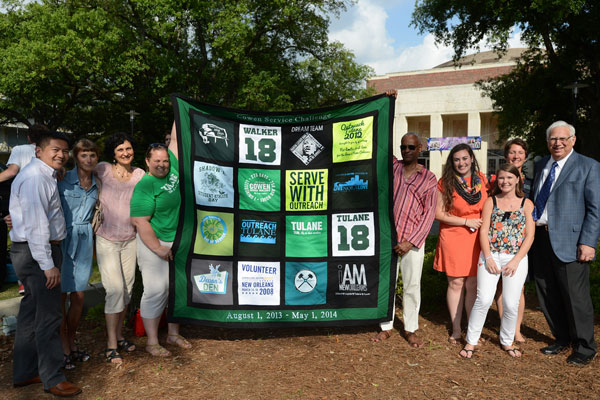 Just like the T-shirts on the quilt, these hours represent the best of Tulane and its total commitment to building a better world. I have placed the quilt in a prominent spot in my office so that anyone visiting cannot help but see it. Of all the awards, recognitions and heartfelt messages I have received since announcing I was retiring as president, this quilt captures my commitment and passion for service. It will always be a special reminder of my years at Tulane.
Have a great weekend,