May 19, 2014 10:00 AM
Dr. Karen DeSalvo
newwave@tulane.edu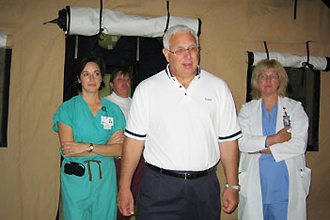 Editor's Note: In this series of articles, colleagues and friends of Tulane University President Scott Cowen write a remembrance of their work with him. Dr. Karen DeSalvo is a Tulane alumna and former professor and vice dean at the Tulane School of Medicine. She served as New Orleans health commissioner before her January 2014 appointment as national coordinator for health information technology at the U.S. Department of Health and Human Services in Washington, D.C.
The top photo is the way I hope I always remember Scott Cowen.
In the days following Hurricane Katrina when the streets were still flooded and the city was under martial law, Scott came to where we, the team of Tulane medical residents and faculty members, were delivering care. He wanted to help.
We told him that we had set up clinics across the city and were seeing hundreds of people a day who needed medical care, mental health support and public health information.
He spent hours with us visiting each site, and taking the time to listen to the people he met, like the man in the lower picture — so that he could understand the impact of Katrina on their lives and families, and understand how Tulane could be there to help.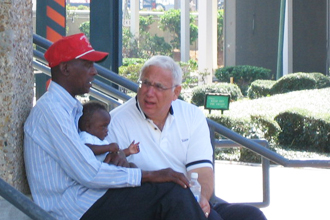 He told us that as the community went, Tulane went. It was clear that there was need for Tulane doctors to provide service in the city, and that we should press ahead, doing what we were doing, "but we should make sure to carry the Tulane flag."
To assist, he had the chief security officer break into the Tulane Bookstore and bring us boxes of Tulane T-shirts, hats and flags to use while we served the people of our city.
For me, that was a testament to Scott's clear commitment to community health as a foundational, integral part of the new New Orleans.
He stood by our side, stood up for us and was a leader in seeing that today, hundreds of thousands have received care who otherwise would have gone without.
I have no doubt that because of Scott, lives were changed and lives were saved. We should forever be in his debt. I know that I am.