May 12, 2014 8:45 AM
Anne Baños
newwave@tulane.edu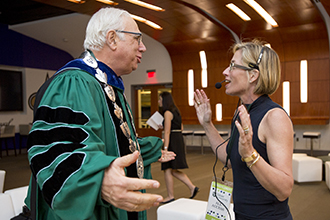 Editor's Note: In this series of articles, colleagues and friends of Tulane University President Scott Cowen write a remembrance of their work with him. Anne Baños is chief of staff and vice president for administrative services.
I've worked with Scott for 14 years. I keep thinking about one of his traits as a leader that has affected me dramatically and personally. During Katrina is probably where I saw it at its height, but it's a very unusual quality in a boss, a leader and a teacher, all of which define who he is.
He has unbelievable faith in people being able to do things.
When I started as chief of staff, I knew external relations, how to organize staff, how universities ran, but he just started throwing things at me, things I had no idea about, things that I thought were well beyond what I could do or manage. He would say, "You'll figure it out, you'll be fine."
And I have been. I've learned an unbelievable amount. I've had great help from colleagues, learned how to work in new spaces, learned to be more resourceful. It all starts with somebody telling you, "You can do it." What an amazing way to be managed and to have opportunities.
I think it's very rare in the world to be around somebody who gives you a task, lets you go and makes it clear they have the faith in you to execute it. What a gift that is. It's the confidence you need when you may not have it yourself, it's the passport to try everything and do everything, to go out there and make your own mistakes and have the space to learn from them.
I've seen him do this with other people; I'm by no means the only one. That is one of the keys to our success here at Tulane.
Scott has an innately positive, caring spirit. When we talk about "good people," it sounds like an understatement, but he's a truly good person.
Another of Scott's key attributes, and I can think of all kinds of examples, is integrity. Scott doesn't ask people to do what he isn't willing to do himself.
How lucky are we?